Vimeo
Deliver 'Finance as a Service' with the VFD Mastery Programme…
… free up time to INCREASE OPERATIONAL CAPACITY
… improve RECRUITMENT & TEAM RETENTION
… Increase your RECOVERY RATE
Guide your clients towards a more profitable future, helping them Survive, Thrive, Grow & Exit Successfully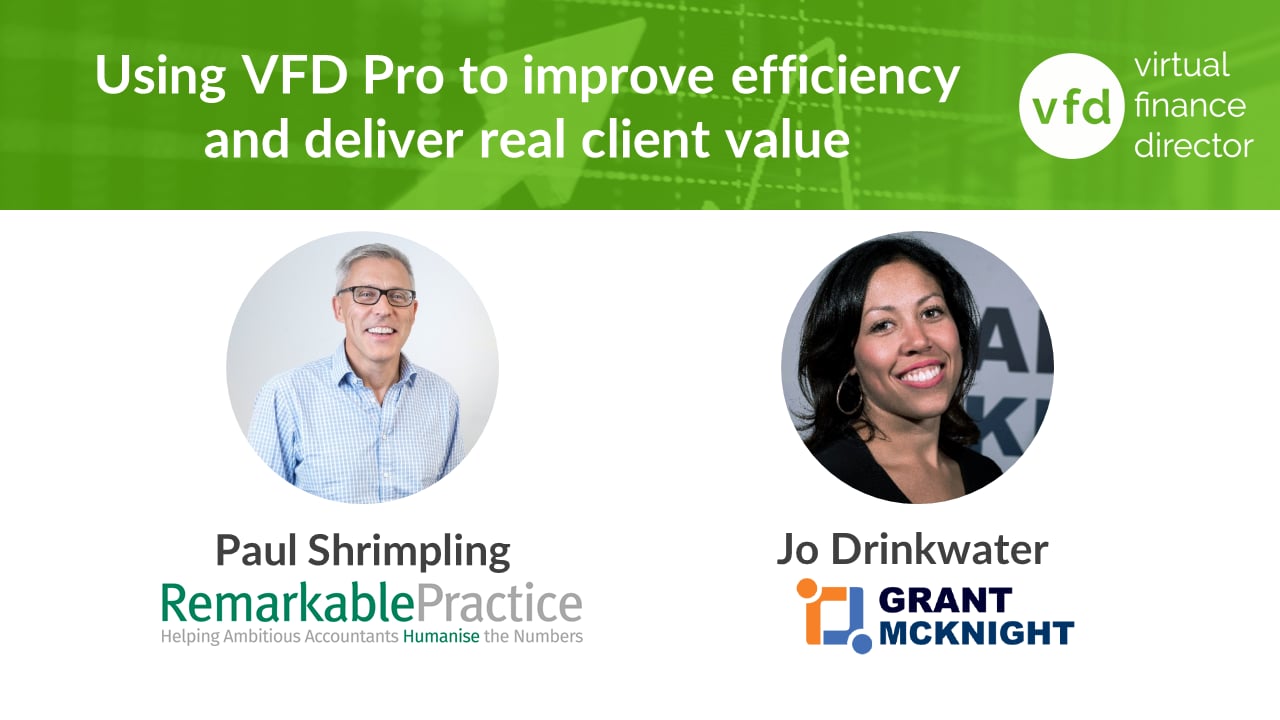 Support Clients from Start-up, to Scale-up, to Successful Exit
Focus client meetings on future growth & equity potential.
Deliver Management Information and regular Financial Review meetings.
Growth Planning to deliver Performance vs Forecast Reporting.
Support clients as their part-time FD / CFO.
Deliver 'Finance as a Service', helping clients also prepare for a successful exit?
Up to 24 Hours of Certifiable CPD
Session Recordings + Client Discussion Guides
Interactive Learning Management System
You want your CPD and training investment to deliver a return. Recent example of 'wins' whilst on the 12 week programme (or shortly afterwards) include:
Existing annual accounts client upsold to a monthly management meeting. Practice value £955 per month.
New client acquired.  Practice value £37,150 per annum.
New client acquired.  Practice value £40,470 per annum.
Assisted client prepare for exit.  Practice value £6,475 per month.
Next Programme Starts
9th May 2023
Every Tuesday 2pm to 4pm (GMT) for 12 weeks
Vimeo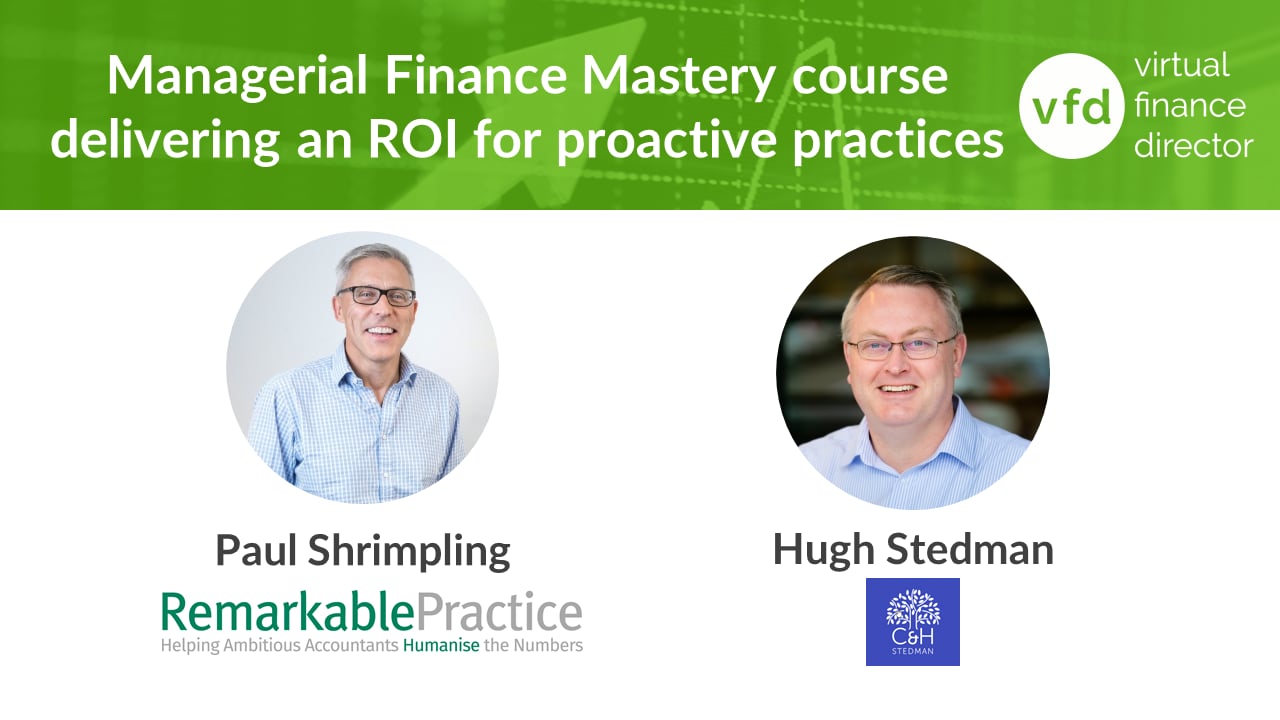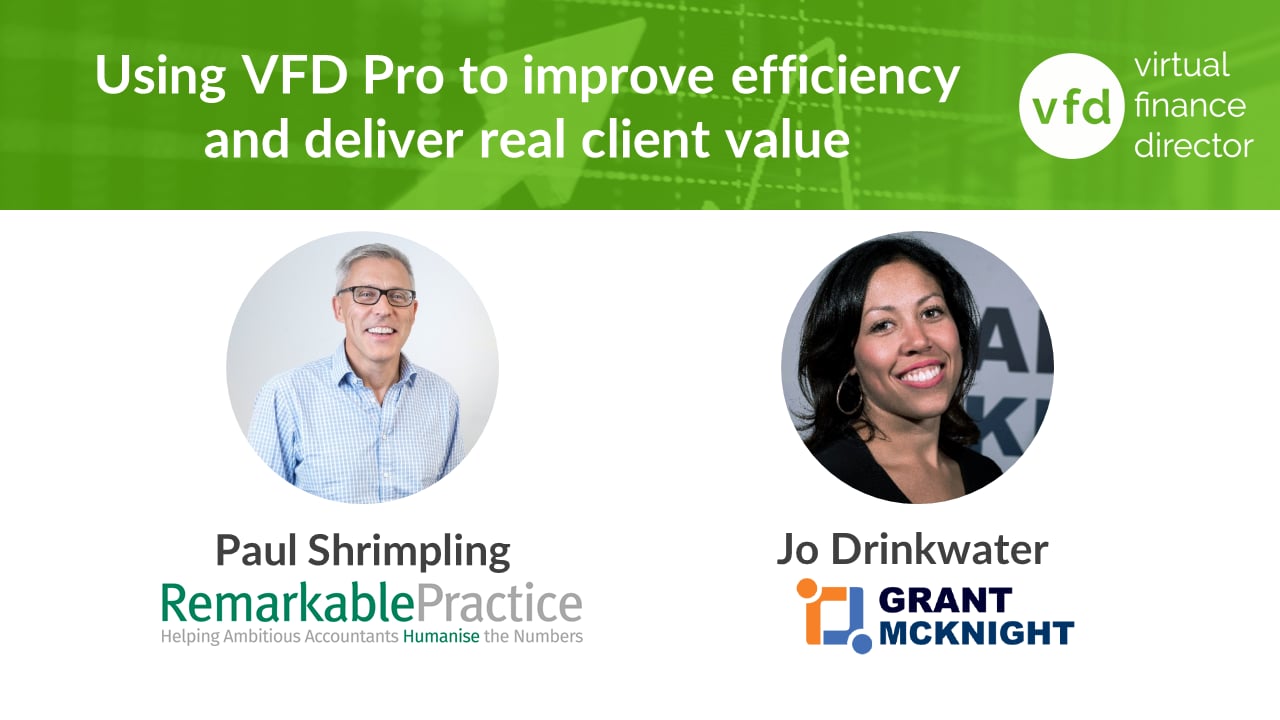 Module 1: Compliance+
Future Focus & Potential for Growth Leading to Increased Fee Income
Module 1 covers everything you and your team need to know to deliver added value and execute your Compliance+ Strategy to increase fees, upskill your team and engage and upsell clients. The key topics covered include:
Using the VFD Pro Portal to add clients and generate the core collateral you will need
Using the Client Discussion Model to deliver a Future-Focused discussion with clients
Introduction to FiMBO (Financial Management for Business Owner Training Programme)
The Business Overview Report – So What Guides, VFD Academy, and the LMS
Adding Qualitative information to augment pure financial information to add more value
The client journey: Adding value, testing, and measuring to de-risk fee increases

Module 2: Management Reporting & Review Meetings
Module 2 is delivered in eight online sessions, typically on Tuesdays and Fridays, and builds on Compliance+ to give you everything you need to upsell and deliver comprehensive Management Reporting. This is typically delivered in conjunction with regular review meetings with clients. Key topics covered include:
The role of the Accountant / Advisor
Dissecting Revenue in 4 different ways: The Performance Analysis Report (PAR)
Below the line: Cost of Sales, Overheads, Balance Sheet, and Cash Flow (PAR part II)
Trend analysis for Start-ups and volatile trading: The Performance Trend Report
Opportunities in the Existing Client & Supplier Base: Customer and Supplier Analysis Reports
Customer Exception Reporting and The Marketing ROI Reports
Business Growth Opportunity Analysis and Scenario Planning: The Business Growth Model
The Deep Dive – forensic financial analysis: The Business Intelligence Dashboard
Monthly Management Reporting: The Board Summary Report &The Board Reporting Pack
Agree on the value before discussing price to focus on Return on Investment
Pricing and Options – Proposals – Setting Expectations – Resource Considerations
Module 3: Growth Planning, Forecasting, Part-Time FD/CFO
Module 3 builds on Modules 1 and 2 to give you everything you need to upsell and deliver Business Growth Analysis and Planning, Forecasting, Generating Funding Proposals and reporting Performance vs Forecast as part of your Part-Time FD/CFO Service. The key topics covered include:
The Role of the Accountant / Advisor – What it takes to provide Part-Time FD / CFO Services
Growth Potential and Business Planning: The Customer Segmentation Model
Building Your Clients Forecast (Profit &Loss, Balance Sheet, and Cash Flow – Years 1 to 5)
Scenario Planning and Funding For Growth – The CAMPARI Compliant Funding Proposal
Making the Extraordinary Ordinary – Identifying Issues and Reporting By Exception
Reporting Performance vs Forecast – the Monthly Management Cycle
The Finance Directors / CFO's Business Planning Work Flow Process: What, When, How
Establishing the Value of the Part-Time FD Service vs the alternative options
Pricing – Proposals – Setting Expectations – Resource Considerations
Module 4: Exit Planning, Valuations, Financial Due Diligence
Module 4 builds on Modules 1 to 3 to go beyond financial management to provide everything needed to effectively help Business Owners plan for and prepare their business for exit. Regardless of the target exit date, running an Exit Ready Business makes good business sense. The key topics covered include:
The role and the rewards of Exit Planning and Becoming Exit Ready for owners and advisors
Establishing a Blended Business Valuation Using 7 Valuation Models and related assumptions
Preparing a comprehensive Financial Due Diligence Pack for buyers and/or sellers
Building Your Clients Exit Forecast (P&L, BS, Cash Flow, & Rolling Valuation – Years 1 to 5)
Reporting Business Value vs Target Exit Value as part of the Monthly Management Cycle.
Preparing the Owner and The Business for Exit – The Special Advisory Services (SAS) Team
Establishing the Value of your Exit Planning and Support Services
Pricing – Proposals – Setting Expectations – Resource Considerations